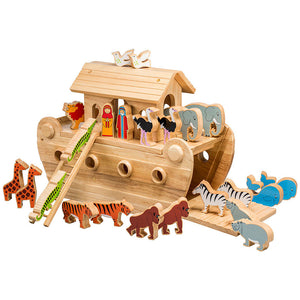 Children will love this beautiful deluxe Noah's Ark by Lanka Kade. 
This beautifully handcrafted deluxe Noah's ark playset is a fantastic addition to any children's toy collection. This natural wood Noah's ark toy is our largest, deluxe size and is supplied with 24 chunky colourful characters.

All of the animals and characters have colourful designs with a natural wood grain edge - each piece is unique!

A fantastic christening, christmas or birthday gift, this deluxe ark will be treasured for years to come.

This deluxe Noah's ark with 24 colourful characters:

is provided with removable roof panels, boat house, deck, ramp and ladder
includes 2 pairs of hippos, ostriches, crocodiles, giraffes, whales, gorillas, zebras, tigers, elephants, doves, a lion and a lioness plus Mr and Mrs Noah
is a chunky size - the characters are 25mm thick
is made from eco friendly materials
is supplied in an informative box (an easy shape to wrap if a gift!)
is compatible with our range of natural painted animals - code NC
This fair trade deluxe Noah's ark is handcrafted by skilled artisans in Sri Lanka from sustainably sourced rubber wood and non toxic paints. Blemishes should be expected, these are part of the beauty of a natural wood product.