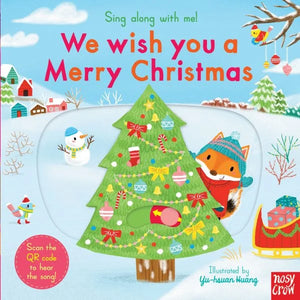 An adorable Sing-Along board book story, with five robust board sliders – easy for little hands to use!

Each board book comes with a free instrumental and vocal version of the nursery rhyme – simply scan the QR code for little ones to listen and sing along!

With bright illustrations this series make the perfect festive stocking-filler for a baby or toddler!

It's Christmas time and two young friends are sledging across the snowy countryside to a very special destination. Interactive and engaging, everyone will love joining in with this favourite Christmas song!

There are loads of titles to collect…

Sing Along with Me! The Wheels on the Bus

Sing Along with Me! If You're Happy and You Know it

Sing Along with Me! Old Macdonald Had a Farm

Sing Along with Me! Row, Row, Row Your Boat

…and many more!